Holiday Gift Certificates!
We have gift certificates available for purchase online here.

You can call 814-237-5220 & we will snail mail you a gift certificate.

If you prefer to purchase in person,
please CALL THE FRONT DESK (814-237-5220)
before you come up to the lobby.
This will allow us to keep in compliance with Covid-19 guidelines.

Thank you, and have a lovely holiday season!
---
FACIALS ARE BACK!
As we embrace the challenges of our long-term mask wearing,
the State Board of Cosmetology has changed their guidelines
on services that require mask removal
i.e. facials and facial waxing.
They are now allowing temporary mask removal if certain criteria are met.
We are happy to announce that we are meeting and/or exceeding their criteria.
---
NEW TREATMENT!
Try our new Eye Rejuvenating Treatment.

With eyes on display more than ever, this Holiday season we want to refresh and rejuvenate your skin for a brighter look around the eyes.

Refine, lift and soothe in this 45-minute treatment with focus on the eye area, neck and décolleté.

A soothing, relaxing treatment that includes our new microcurrent treatment.

Guests will remain masked during this service.
---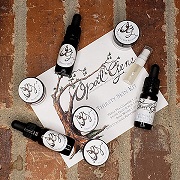 FACIAL IN A BOX!
From natural skincare company Opal Gene.

Facial in a Box Kit provides enough supplies for two DIY facials with a little extra product to enjoy for $55.

There are three kits to choose from:

Carrot and Mango Hydrating Kit: Rehydrate and infuse dry dull skin with the super anti-oxidant and moisture rich carrot and mango facial.

Pro-biotic Enzyme Kit: Bring irritated, inflamed skin into balance and harmony with healthy and strengthening probiotic.

Green Garden Pore Cleansing and Calming Kit: Soothe irritated, inflamed or acneic skin with french green clay and a proprietary blend of garden vegetables. enzymes and hydrators.

To order your kit or request a consult on the best option for your skin type:
e-mail our esthetician, Tracie Pletcher at tracie@dragonflymassages.com.
---
Dragonfly Welcomes our Newest Massage Therapist!
Catherine Pletcher, LMT (MSG013379)

Dragonfly is pleased and excited to introduce our newest massage therapist,
Catie Pletcher.

Catie has long been a part of our team as an Equine and Canine massage therapist.
We are excited she has taken the leap and included humans in her practice!

For a limited time, schedule with Catie at an introductory rate!

$45 for 30 minutes
$78 for 60 minutes!
---
Book an Appointment Online!

NEW - Book appointments with only 12 hours advance notice!
Dragonfly has added the ability for our clients to book their appointments online! Either click the button above or the "Schedule Online" button on the menu bar, follow the directions and book your appointment with your favorite therapist!
---
Print a Gift Certificate Online!
Dragonfly has added the ability for our clients to print their Gift Certificates online (you can also choose to email them to the recipient). Either click the button above or the "Gift Cards" button on the menu bar, follow the directions & get your online gift certificate!
---
---
Attention Massage Therapists:
Continuing Education Offerings
---
---
---